AREA OF OPERATIONS
BACKGROUND
Hew-Tex Oil & Gas founder and Managing Member, Peter Hewett saw an incredible investment business opportunity while drilling an offshore oil well in the middle of Galveston Bay, Texas (Gulf of Mexico) 2016.  All over the news media was being announced the discovery of more than 20 billion barrels of newly proven crude oil  and 16 trillion cubic feet of natural gas from the multiple stacked Permian Basin sands in West Texas according to an assessment by the U.S. Geological Survey.  In just a few short months, the Permian Basin had become one of the most prolific oil and gas producing regions in the USA.  Oil companies both large and small were racing to acquire mineral leases throughout this vast west Texas area.  This discovery was the result of today's state-of-the-art horizontal drilling extraction techniques and 3D seismic technology.  One newspaper article discussed how these Permian Basin oil wells require large hydraulic fracturing procedures to unlock the oil from the shale formations.  Each of these "fracing" procedures require massive amounts of fresh water mixed with chemicals and proppants that are then pumped into the oil bearing shale formations under very high pressures.  As much as 190,000 barrels of frac fluid are required to frac each well.  This fluid ultimately will return to the surface as the well is produced.  This fluid is required by law to be disposed of under strict rules by the EPA under the statutory law of the Texas Water Code and enforced by the Texas Railroad Commission.  In addition, the typical Permian Basin oil well initially produces an average of 650 barrels of oil per day along with approximately 2000 barrels of formation saltwater per day that also must be properly disposed of by law.  The ratio of one (1) barrel of oil to three (3) barrels of saltwater created an enormous challenge to operators.  Within the past 12-24 months, companies like Exxon Mobil, Occidental Petroleum, Chevron, EOG Resources, Apache Corporation, Concho Resources, Shell Oil, Anadarko E&P, and many large and small independent oil operators are involved in drilling ultimately several thousand new oil wells in the Permian Basin. EOG Resources recently completed an oil well in the Delaware Basin producing 5000 barrels of oil per day. Recently, the Texas State Highway Department reported more than 2500 Saltwater Tanker and Vacuum Trucks were running daily on the highways within the West Texas Permian Basin. 
BUSINESS OPPORTUNITY IS CREATED
As a result of this Permian Basin "oil boom", Mr. Hewett decided that drilling a highly in demand saltwater disposal well along with a state-of-the-art injection disposal surface facility for produced formation saltwater and other completion fluids had a significantly less risk factor than drilling an oil or gas well!  Economically, a state-of-the-art saltwater disposal facility design (including drilling a SWD well) costs approximately $4 to $6 million.  The cost of drilling an average Permian Basin horizontal oil well could exceed $9 million or more.  After spending several months researching nearly every aspect of the incredible surge of oil companies acquiring mineral leases and budgeting their commitment to drilling a significant number of wells allowed this unique business opportunity to be taken seriously on behalf of Hew-Tex's investment minded qualified prospective business members.
CLASS II SALTWATER DISPOSAL FACILITY DURING CONSTRUCTION AND COMPLETION OF FACILITY
The photos below were taken of a current Class II Saltwater Water Disposal Facility  while under construction and then during the first day of Operations in the Permian Basin in west Texas. Within 10 days, this new Facility was injecting 20,000 to 23,000 barrels of saltwater down its saltwater well. At times, the Operator had to turn away tanker and vacuum trucks. 
[metaslider id=2399] [metaslider id=2480]
THE PERMIAN BASIN
The Permian Basin is located in West Texas and the southeastern part of New Mexico.  It reaches from just south of Lubbock, Texas, to just south of Midland and Odessa, Texas, extending westward into the southeastern part of New Mexico.  It stretches 250 miles wide and 300 miles long.  It is divided between the Delaware Basin on the west, the Central Basin Platform in the middle, and the Midland Basin to the east.
MAP OF THE PERMIAN BASIN 
(TEXAS AND NEW MEXICO)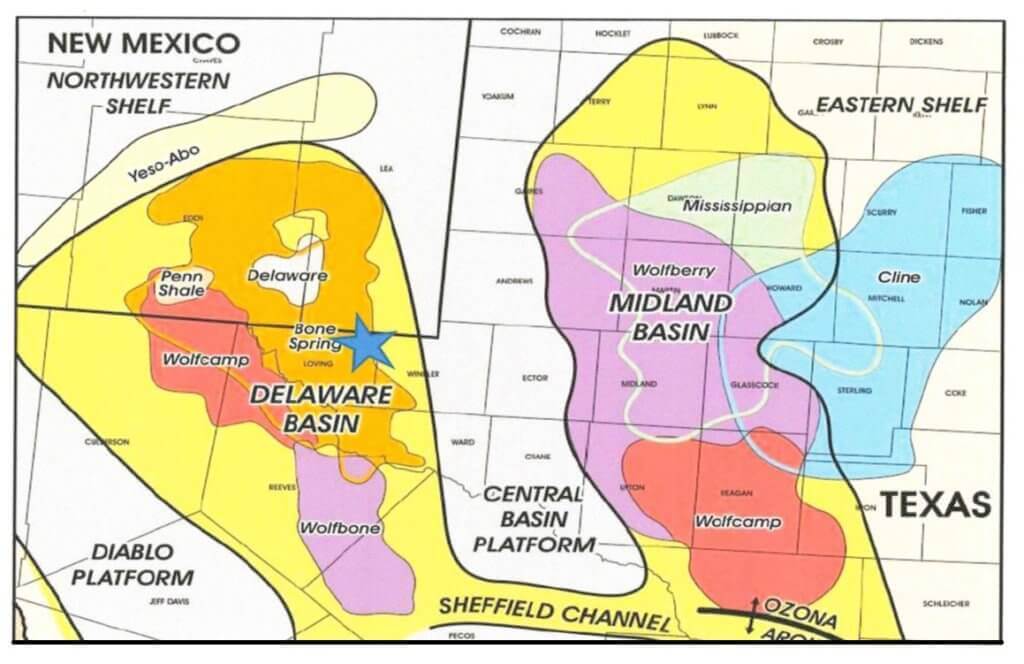 The content available on this site is provided for informational and educational purposes only, is not intended as an offer or solicitation for the purchase or sale of a financial instrument or securities in any jurisdiction and should not be relied upon as an investment recommendation or advice. Hew-Tex Oil & Gas Corporation makes no representations or warranties as to the accuracy, completeness or timeliness of the information. The information is not intended to provide legal, tax or accounting advice. Use of any information, materials, and opinions given or discussed is at the User's own risk. Users are encouraged to discuss the information with any legal, accounting or other professional deemed necessary. Past performance is not a guarantee or indicator of future performance.